A special dish full of delicious, chocolatey fudgy-ness in a sizzling pan of chocolate sauce, with a scoop of vanilla ice cream on top then even more chocolate sauce poured on top.... Who on this earth would not love that?
I remembered it just the other day and so set about making one, you know, as I do to make my home recipes. It's a truly interesting food memory from way back for me.
As you can see from the profile picture above, it kind of reminds me of the Lava Cake you see over here in the States, it has a similar taste profile. Yes, you could make these brownies from scratch and they would probably be better, but a box mix brownie is always good too! I was looking for something easy to throw together for any week night dessert.
Jump to:
I chose Betty Crocker's Supreme Triple Chunk brownies as they have more texture with the added chocolate chunks - but you could add those yourself if needed.
If you like brownies, you should check out my Snickers Bar Brownies, it's creating quite a stir. As well as my Banana Pudding Brownies and my Vanilla Brownies (some of my best dessert recipes)!
🧅 Ingredients
Favorite Brownie Mix (good quality)
Egg (per mix instructions)
Oil (per mix instructions)
Water (per mix instructions)
Chocolate Sauce
Scoops of Vanilla Ice Cream
See recipe card for quantities.
🥣 Instructions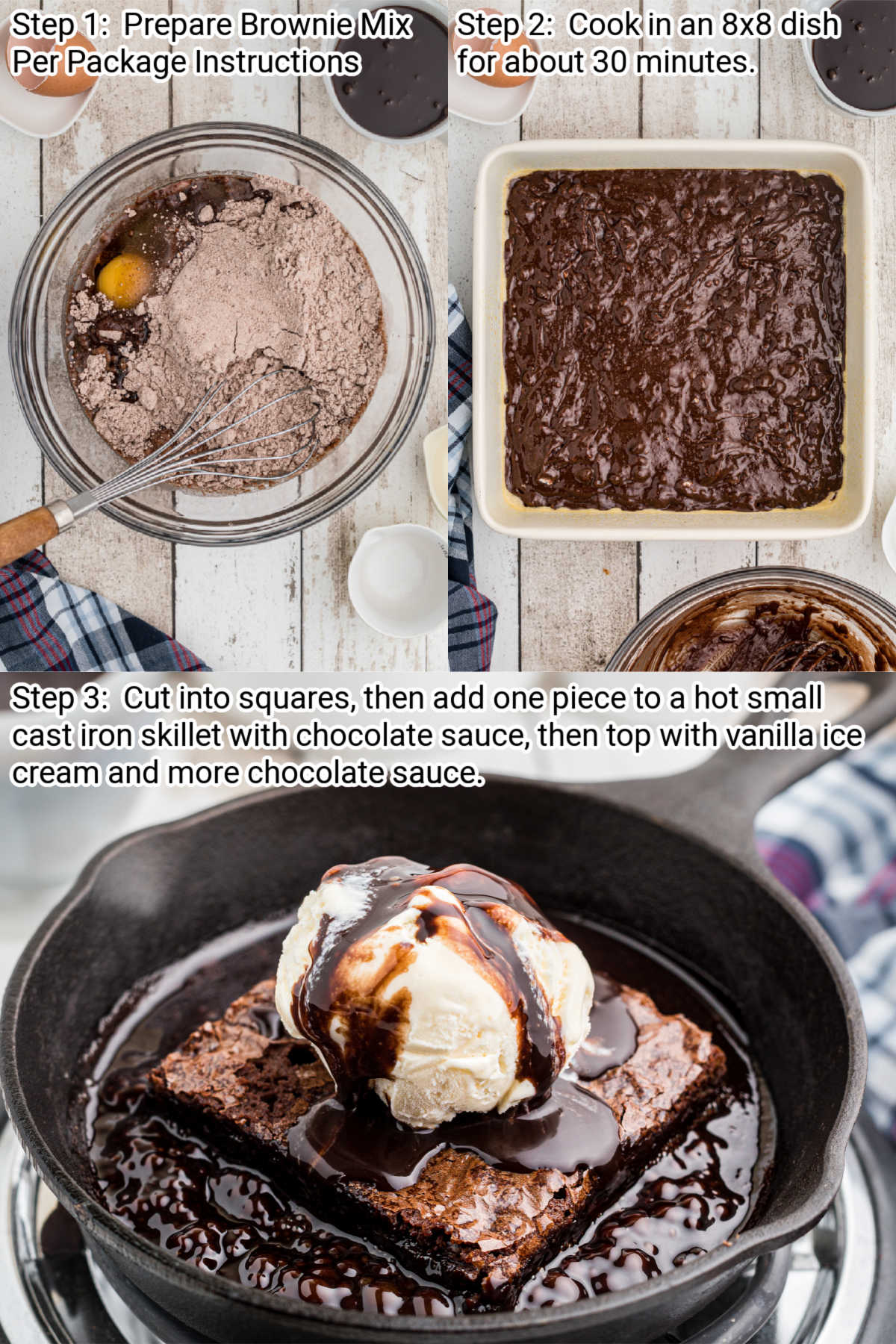 Step 1: Add the brownie mix, egg, oil and water to a mixing bowl and mix just until combined - don't overmix.
Step 2: Add to an 8x8" Baking Dish, and bake in a preheated oven per the package instructions.
Step 3: Remove from the oven and allow to cool for a few minutes. Cut into squares. In a hot skillet (hot sizzler plate) over medium flame add some chocolate sauce then add a piece of brownie. Once it starts to bubble add a scoop of ice cream on top of the brownie and pour chocolate sauce again over the ice cream. Eat right away.
Hint: Turn a brownie recipe into a Birthday Brownie Cake! Check out how I made birthday brownies here.
🖤 Sharing is caring 🖤 like us on Facebook
🔄 Substitutions and Variations
Homemade Brownies - instead of using a box mix, if you prefer making your brownies from your own recipe then perfect. Your typical ingredients would be plain flour, cocoa powder, espresso powder, chocolate chips, vanilla extract, light brown sugar etc. Just follow the remaining steps for the hot brownie.
Caramel Sauce - Instead of hot chocolate sauce you could try caramel sauce.
Heavy Cream - If you are out of ice cream you could also pour heavy cream.
See this Hot Chocolate Brownie Bites recipe, that is also on my website!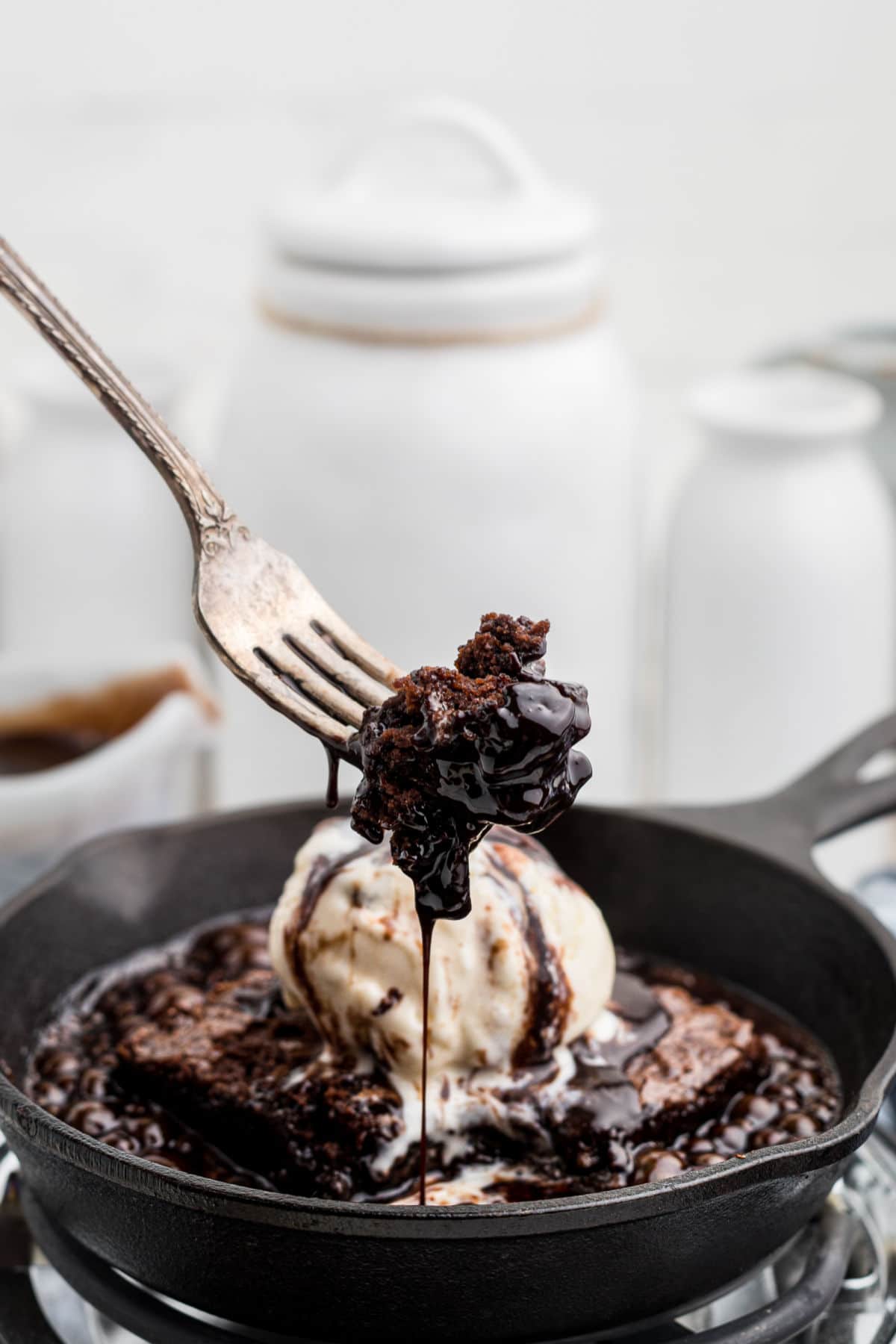 🔌 Equipment
If you don't have a hot sizzler plate using a small cast iron skillet (like I do) is perfectly fine. You can see my recommended products below in the recipe card.
🧊 Storage
The sizzling brownie once added to the sizzler plate is not going to be able to be saved. You need to eat it then and there. However, you will have 8 more brownie piece that you could save for another time. Store them in an airtight container with a small piece of paper towel, at room temperature for up to 1 week.
🧁 More Brownie Recipes
💡 Tips
Expert Tip: The brownie is going to cook a little more during the hot sizzler plate part of the cooking process, so don't worry about undercooking your brownies.
---
If you've tried this Sizzler Brownie or any other great recipe on my site, let me know in the comment section below, how it turned out, we love hearing from our readers!
You can also follow me on PINTEREST, FACEBOOK and INSTAGRAM to see more amazing recipes!
Sizzling Brownie
Total Time:
1 hour
2 minutes
The infamous Sizzling Brownie, so deliciously fudgy and sweet with the different temperature profiles and texture profiles. Talk about a party for your taste buds!
Ingredients
1 Brownie Mix
1 Large Egg
¼ Cup Water
⅓ Cup Vegetable Oil
1 Scoop Vanilla Ice-Cream
¼ Cup Chocolate Sauce
Instructions
Preheat the oven per the package instructions. Add the brownie mix to a medium mixing bowl. Add the egg, water and oil and stir until just combined.
Pour brownie batter into a greased 8x8" Baking Dish and bake per instructions.
Remove from the oven and allow to cool a little while. Cut into squares and add one to a hot sizzler plate along with chocolate sauce. Once bubbling add a scoop of vanilla ice cream and pour chocolate sauce over the top.
Enjoy immediately.
Notes
Be careful when eating this sizzler brownie as you could burn your tongue (I did)!
For best results this sizzler chocolate dessert recipe is meant to be quick and easy.
If using an open flame please be careful!
Recommended Products
As an Amazon Associate and member of other affiliate programs, I earn from qualifying purchases.
Nutrition Information
Yield

9
Serving Size

1
Amount Per Serving
Calories

130
Total Fat

10g
Saturated Fat

1g
Trans Fat

0g
Unsaturated Fat

8g
Cholesterol

24mg
Sodium

29mg
Carbohydrates

9g
Fiber

0g
Sugar

6g
Protein

1g
This nutrition information has been automatically calculated and is not accurate. It only counts one scoop of ice cream and one serving of chocolate sauce yet there are 9 servings of the brownies. Please bear this in mind.
Originally published: Feb 28, 2022.
Also Known As: Hot chocolate brownies.
As you know, I'm a transplant here in Louisiana, I grew up in Britain. One of my favorite desserts when we would eat out (usually at an Indian restaurant) would be the Sizzling Brownie (or Sizzler Brownie as my sister would call it).