This Seafood Gumbo recipe is one of our family's favorites and will really get your taste buds going. If the boys have been out and caught some blue crabs (but not enough for a crab boil) this is my go-to recipe. Seafood Gumbo is so delicious, it's perfect comfort food on a cold day!
Next time try my Shrimp and Grits recipe, it's another reader favorite if you haven't seen it already. Or my Boiled Crawfish recipe, or even my Shrimp Etouffee.
Jump to:
This Cajun Gumbo is a soup popular to Louisiana and is the official state cuisine! What makes this recipe more like the New Orleans Seafood Gumbo variation is my use of a Roux as the thickening agent. When this isn't used, Okra or Gumbo Filé powder is used. I like to use the roux method but have the Filé handy at the table, for if you want your good gumbo thicker.
🧅 Ingredients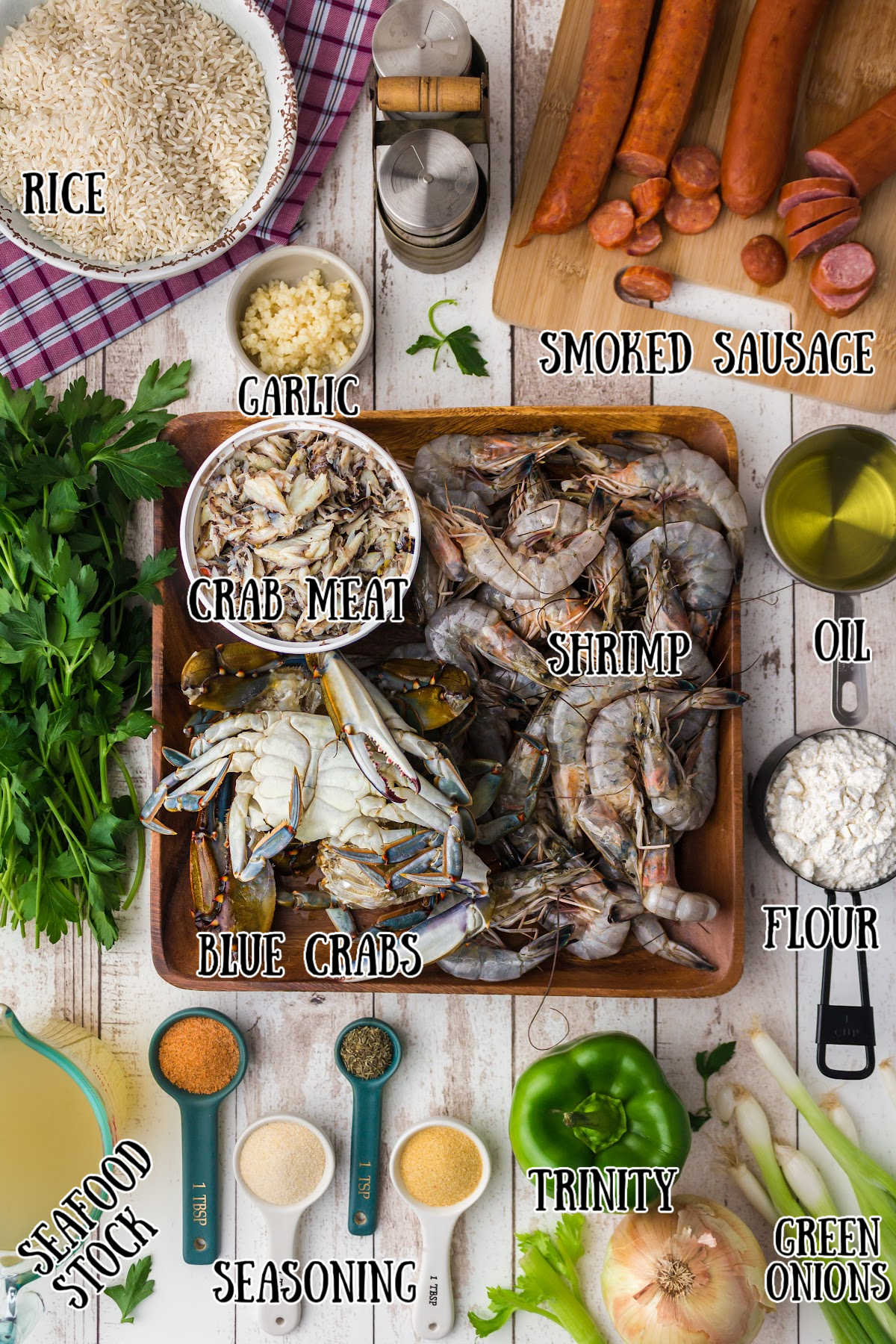 All Purpose Flour
Canola Oil, or vegetable oil
Yellow Onion, chopped
Green Bell Pepper, chopped
Celery, chopped
Andouille Sausage, sliced
Smoked Sausage, sliced
Creole Seasoning (or Cajun seasoning)
Dried Thyme
Garlic Powder
Onion Powder
Whole Bay Leaf
Fresh Garlic
Seafood Stock
Chicken Stock
Blue Crabs
Shrimp
Crab Meat
Parsley, Chopped
Green Onion, Chopped
Salt and Black Pepper (optional extra)
See recipe card for quantities.
🥣 Instructions
Step 1: In a large pot make a dark roux. This is done by cooking the oil and flour together over a medium heat (or if you have other things going on use a low heat), continuously stirring with your wooden spoon.
What is a Roux?
An important part of this recipe is making the Roux. You are aiming for a darkness of dark chocolate. This is a very important step and if at any point your Roux burns there is no saving it, you have to start again! Do not think it will be ok and just blend it, because it won't, everyone will taste it.
Step 2: Add the holy trinity of onions, green pepper and celery and cook on a medium-high heat until totally soft. Then add the garlic and cook a little longer. Add the sausage slices and cook another few minutes.
Step 3: Next, slowly add the stock, along with the garlic and the bay leaves.
Step 4: Allow this beautiful Cajun Seafood Gumbo base to simmer on a low boil for about 90 minutes. After that, add the seafood, the green onions and parsley. Cook for a further 15 minutes and that's it!
Serve with white rice (and potato salad on the side - don't ask why, it just goes together!) This Seafood Gumbo Recipe is the best I've managed to get... and I've tried many different versions!
Hint: It's very important to use a good quality smoked sausage. One that you know is good - if you guess at this it may mess up the flavor. A lot of the quality of flavor comes from the smoked sausage, you could almost call it just a sausage gumbo - it's that important. See my favorites down in the recipe card.
🍽 What To Serve With Gumbo
Traditionally, rice is served with Gumbo along with a southern Potato Salad - which is a perfect combination - and perhaps some Gumbo File on the side. However, the following are some other popular sides to serve:
Hush Puppies
Cheese Bread
Fresh Salad
French Bread
Garlic Bread
Cauliflower Rice
Sweet Potato Wedges
Corn Bread
Cajun fries
🔄 Substitutions and Variations
Shrimp Stock - instead of seafood stock, try using shrimp stock.
Gumbo Crabs - you might not be able to find Blue Crabs, but gumbo crabs I think are the same thing
Chicken Broth - there's a slight difference between broth and stock. Either one will be ok in this recipe.
Frozen seafood - If you don't have access to fresh seafood where you are, you can use frozen. You'll need to thaw first though.
Spicy - add hot sauce or a little cayenne pepper while cooking to imbue heat into the dish. Cajun spice also adds more heat.
Lobster Gumbo - Yes, it's a thing. Change out the lobster for the crabs, or just add it as an extra!
Crawfish Gumbo - Even better! Again, change out the shrimp for the Crawfish to make a Crawfish Gumbo. Keep everything else the same. It's absolutely delicious!
File Powder - Add Gumbo File powder to thicken it up and give it an extra something special.
Deluxe - add even more fish/seafood - go wild! You could even add a little oyster liquid and oysters... I've seen that done.
Kid friendly - slice the sausages differently so you know which is the andouille sausage (the spicier sausage)
Make This Recipe In The Instant Pot
This is also a good seafood gumbo instant pot recipe - Make the roux as suggested in saute function, then add as described above. Cancel saute mode and lock the lid into place.
Select high pressure and set time for 15 minutes. Allow 10-15 mins for pressure to build. Release pressure using the natural-release method. Switch to Saute function.
Add remaining ingredients and cook on saute for 15 minutes.
🔌 Equipment
I use a heavy Gumbo Pot, or Stock Pot. It has a heavy, thick base and allow you to let that soup roll without burning! I have a link to the exact pot I use below in the recipe card.
🧊 Storage
Allow this seafood gumbo to cool completely, then store in the refrigerator in an airtight container for up to 3 days.
💡 Top Tip
I like to peel about 70% of the shrimp before I put in, this way most won't need peeling while you're eating but you still get the flavor from the shrimp shells from the remaining 30%.
FAQ
What is Seafood Gumbo?
Gumbo is actually classed as a soup, it's a delicious Cajun/Creole dish full of meat and smoked sausage. There are different type of Gumbo - most common are Chicken and Sausage and Seafood Gumbo. The first time I tried it, it blew me away how absolutely delicious it is.
Doesn't Gumbo have Okra in it?
To be honest, Gumbo actually translated means Okra. It is used as a thickening ingredient. However it's quite a different taste that some don't like. It's quite a touchy subject, for some Cajuns they feel the dish is just not Gumbo without the Okra in it... but I believe it's a personal taste.
Do you have to use a roux in Gumbo?
Originally, when Gumbo was first created Okra was used as the thickening ingredient. Gumbo Filé was created from Sassafras, to thicken a Gumbo. Only later did people start to make a Gumbo using a roux. I believe today the roux method is the preferred method.
Who first made Gumbo?
The history of Gumbo starts in North Africa. The slaves that worked the plantations in Louisiana would cook for the families and workers and Gumbo was a dish that they brought with them.
---
If you've tried this Louisiana Seafood Gumbo Recipe or any other recipe on my site, let me know in the comment section below, how it turned out, we love hearing from our readers! You can also follow me on PINTEREST, FACEBOOK and INSTAGRAM to see more amazing recipes!
Seafood Gumbo
Total Time:
2 hours
30 minutes
Deliciously tasty, New Orleans style Seafood Gumbo. The perfect blend of seafood and smokiness with just enough spice to get those lips tingling! Serves perfectly with rice and potato salad.
Ingredients
1 Cup Flour
1 Cup Canola Oil
2 Cups Yellow Onion, chopped
1 Cup Green Bell Peppers, chopped
1 Cup Celery, chopped
2 Links Andouille Sausage, sliced
2 Links Smoked Sausage, sliced
1 Tablespoon Creole Seasoning
1 Teaspoon Thyme, Dried
1 Tablespoon Garlic Powder
1 Tablespoon Onion Powder
2 Tablespoons Garlic, Fresh Minced
8 Bay Leaves, Whole
5 Cups Seafood Stock
5 Cups Chicken Stock
½ Cup Fresh Parsley, Chopped
⅔ Cup Green Onions, Chopped
2lb Crabs, Whole
2lb Large Fresh Shrimp
8oz fresh lump crab meat
Instructions
Add Oil to pan and turn on medium heat. Heat oil.
Add flour and continue to stir, watching close, until the mixture (Roux) has turned a dark chocolate color.F
Add Onions, Green Peppers and Celery and stir until translucent.
Add Sausage, mix together for 3 minutes.
Add Spices and stir together.
Slowly add stock, stirring all the time. Add Bayleaves and fresh Garlic.
Turn the heat down to a low roll and cover.
Allow to simmer like this for 90 Minutes.
While simmering organize rice and any other side dishes.
Add Crab, Shrimp, Crab Meat, Green Onion and Parsley and bring back to a boil. Cook on a slow roll for 15 minutes. Turn off heat.
Notes
If you like a spicier Gumbo replace smoked sausage with andouille sausage, making it 4 Links of Andouille and add another tablespoon of Creole Seasoning.
Try changing the shapes of the sausage - whole slices for the regular smoked sausage and smaller dices for the hotter Andouille, that way it's easier for the kids to eat.
I like to peel about 70% of the shrimp before I put in, this way most won't need peeling while you're eating but you still get the flavor from the shrimp shell from the remaining 30%.
The stock is flexible, you can use all Seafood, or all Chicken - I just like the blend of both. You could even try shrimp stock.
Use additional stock for a thinner gumbo, or less for a thicker gumbo. Depending on your preference.
If you've heard of Creole Gumbo, this is a gumbo that has tomatoes in it. You find that in some regions of Louisiana.
Nutrition Information
Yield

10
Serving Size

1
Amount Per Serving
Calories

579
Total Fat

31g
Saturated Fat

4g
Trans Fat

0g
Unsaturated Fat

25g
Cholesterol

303mg
Sodium

908mg
Carbohydrates

25g
Fiber

2g
Sugar

6g
Protein

48g