Nothing will ever compare to a good skillet cornbread recipe. It's one you can pull out at any time, throw the ingredients into the cast iron pan and that's it. Now you have one super delicious and moist crumb cornbread that can accompany just about any dish you can think of.
Next time try my Banana Bread for another homemade classic that the whole family goes nuts over.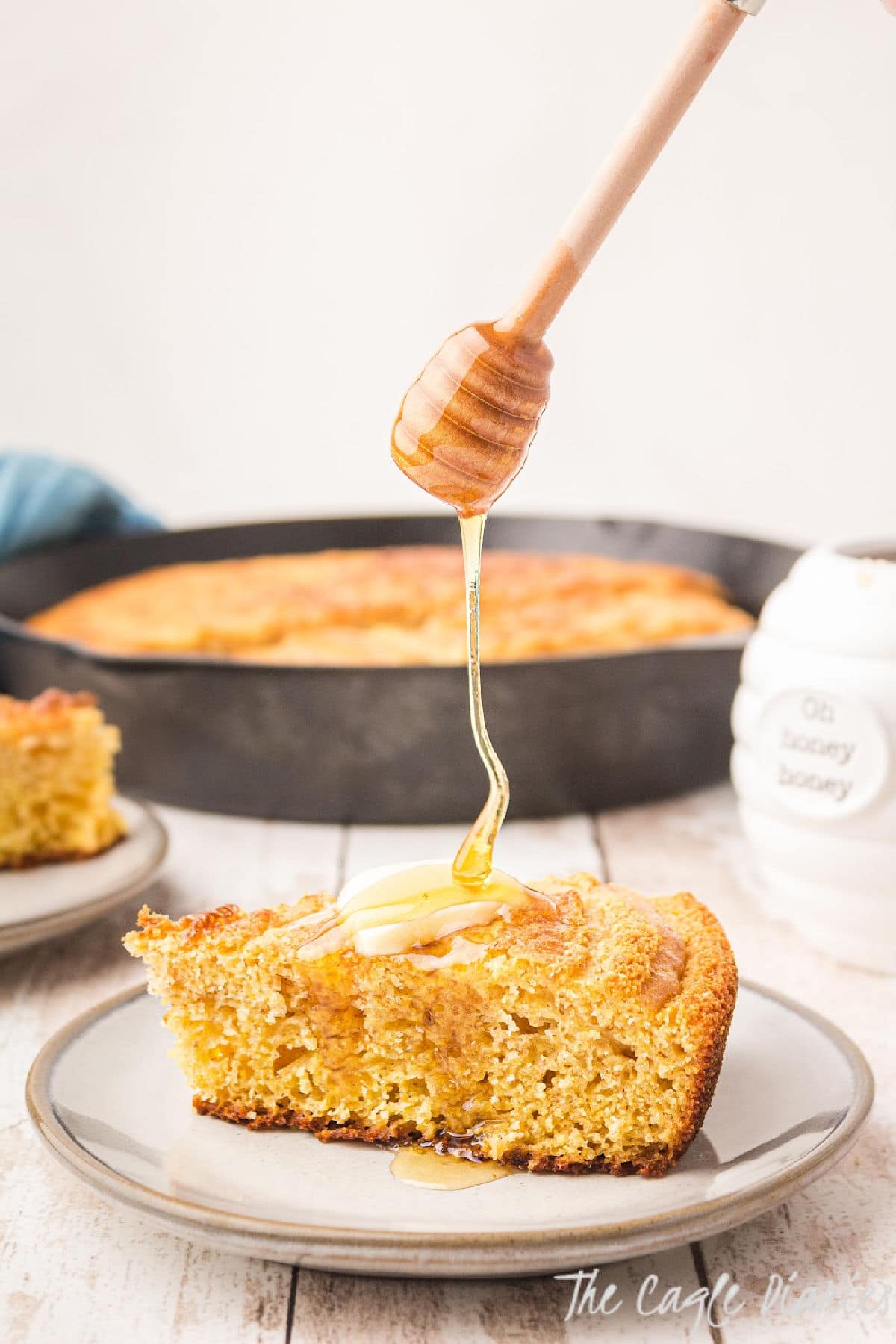 This cornbread goes really well with a lot of my dinner recipes. Especially my Venison Chili, it also pairs well with this amazing Crock Pot Pinto Beans Recipe.
The first time I made a cornbread I was really nervous. I don't know why, little did I know it's so easy! This is a southern cornbread recipe that has been handed down the generations, specifically how many I can't say, but I know mothers and mother's mothers are involved.
Jump to:
Ingredients
Bacon Grease
Honey
Buttermilk
Large eggs
Yellow cornmeal, fine or medium-coarse grind
Whole wheat flour
All-purpose flour
Baking powder
Salt
Baking soda
Sugar (optional)
See recipe card for quantities.
Instructions
One of the things that makes this a really easy cornbread recipe is you combine all the wet ingredients, then all the dry ingredients, then fold them all in together and pour into the hot greased skillet. That's it. The best skillet cornbread recipe you ever tried in four easy steps!
After the ingredients have been mixed together, they should be added to the hot skillet greased with the bacon grease. This should have been warming up with the oven at 375°F.
Step 1: Add the bacon grease to the skillet and add a medium heat.
Step 2: Mix all the dry ingredients together in a medium bowl.
Step 3: Mix all the wet ingredients together in a large bowl.
Step 4: Add the dry ingredients to the wet ingredients, stir until just combined then add to the hot pan. Transfer to the preheated oven and cook for 20 minutes.
Hint: make sure all the ingredients are at room temperature for the best results (buttermilk and eggs).
Substitutions and Variations
Spicy - if you like a spicy cornbread, slice some jalapenos and add to the cornbread batter before cooking.
Butter - if you'd rather skip the bacon grease you can use melted butter in it's place.
Apple Sauce - use apple sauce in place of the egg if you need to. A ¼ cup can be substituted for 1 egg.
Equipment
If you can tell by the title of this post (skillet cornbread recipe), you are definitely going to need a cast iron skillet to make this recipe. I use a nice large 12" size. See the recipe card below for a link if needed.
Storage
Cornbread can be stored at room temperature for up to 4 days, in an airtight container.
Cornbread freezes really well for up to 3 months in a freezer safe container.
Top tip
Add paper towel to your container when storing cornbread, as it can get quite moist in there and it affects the texture of the cornbread.
FAQ
Can you microwave cornbread?
If your cornbread has cooled too much and you need to warm it back up, then sure. But don't zap it for too long as it will ruin the texture.
Is there an egg substitute for cornbread?
A quarter cup of apple sauce can substitute for the egg.
Can you freeze cornbread?
Cornbread freezes really well, for 3 months.
Can dogs eat cornbread?
I don't think it's too bad for them. It depends on your dog's system and how often. A little here and there can't hurt, personally I don't feed my dog table food as he turns into a beggar!
What goes with cornbread?
Cornbread goes with anything I think! Beans and cornbread are perfect, as well as chili and barbecue! In fact, I bet Lana's Chicken Jallop recipe over at Never Enough Thyme would be perfect!
Is this a sweet cornbread?
Not really. It has a touch of sweetness, but if you're looking for a more cake-like cornbread you'll need to add sugar to this recipe.
---
If you've tried this skillet cornbread recipe or any other great recipe on my site, let me know in the comment section below, how it turned out, we love hearing from our readers! You can also follow me on PINTEREST, FACEBOOK and INSTAGRAM to see more amazing recipes!
Skillet Cornbread Recipe
This Southern Skillet Cornbread is so simple to make you'll be making it for every meal! It is such a perfect accompaniment to so many dishes - it has just the right amount of sweetness with a yummy crunchy buttery crust. A cornbread recipe for everyone.
Ingredients
3 Tbsp. Bacon Grease
½ cup Honey
2-¼ cups buttermilk
3 large eggs
1-½ cups yellow cornmeal, fine or medium-coarse grind
½ cup whole wheat flour
½ cup all-purpose flour
1 Tbsp. baking powder
1-½ Tsp. salt
½ Tsp. baking soda
3 Tbsp. Sugar (optional)
Instructions
Add Bacon grease to cast iron skillet and put into the oven. Turn on to 375°F and allow to heat up with the oven.
Add all the dry ingredients into a medium size mixing bowl and mix together.
Add all the wet ingredients into another mixing bowl and mix well.
Take the wet ingredients and add to the dry ingredients and stir until just combined.
Once the oven has reached the right temperature pour the batter into the hot skillet.
Cook in the oven for 25-35 minutes (or a toothpick inserted comes out clean)
Notes
I added the sugar option as I know that some people like their cornbread a little sweeter! I like it this way, without the sugar as sweetness can always be added afterward with a drizzle of honey!
Recommended Products
As an Amazon Associate and member of other affiliate programs, I earn from qualifying purchases.
Nutrition Information
Yield

10
Serving Size

1
Amount Per Serving
Calories

193
Total Fat

6g
Saturated Fat

2g
Trans Fat

0g
Unsaturated Fat

3g
Cholesterol

60mg
Sodium

379mg
Carbohydrates

33g
Fiber

1g
Sugar

18g
Protein

4g
I'm not entirely sure why. I did actually look it up trying to find an answer, but other than the fact that Beans and Cornbread gets served (due to a tradition) after a successful NASA flight, and there's a song called Beans and Cornbread from the forties there's not much else factually out there.
I believe it's just a Southern tradition. It's a humble meal, as beans are inexpensive and a southern cornbread recipe is too, very filling and full of nutrition - it's a hearty meal that has become a southern classic! It's definitely one of our favorites, try our Pinto Beans recipe here.