Eating Cajun Crabs at a seafood restaurant is great, but when you cook it at home there's something about the whole experience that all Cajuns love. The smells, the procedures, the stories - this recipe will go into depth on how to boil crabs yourself at home.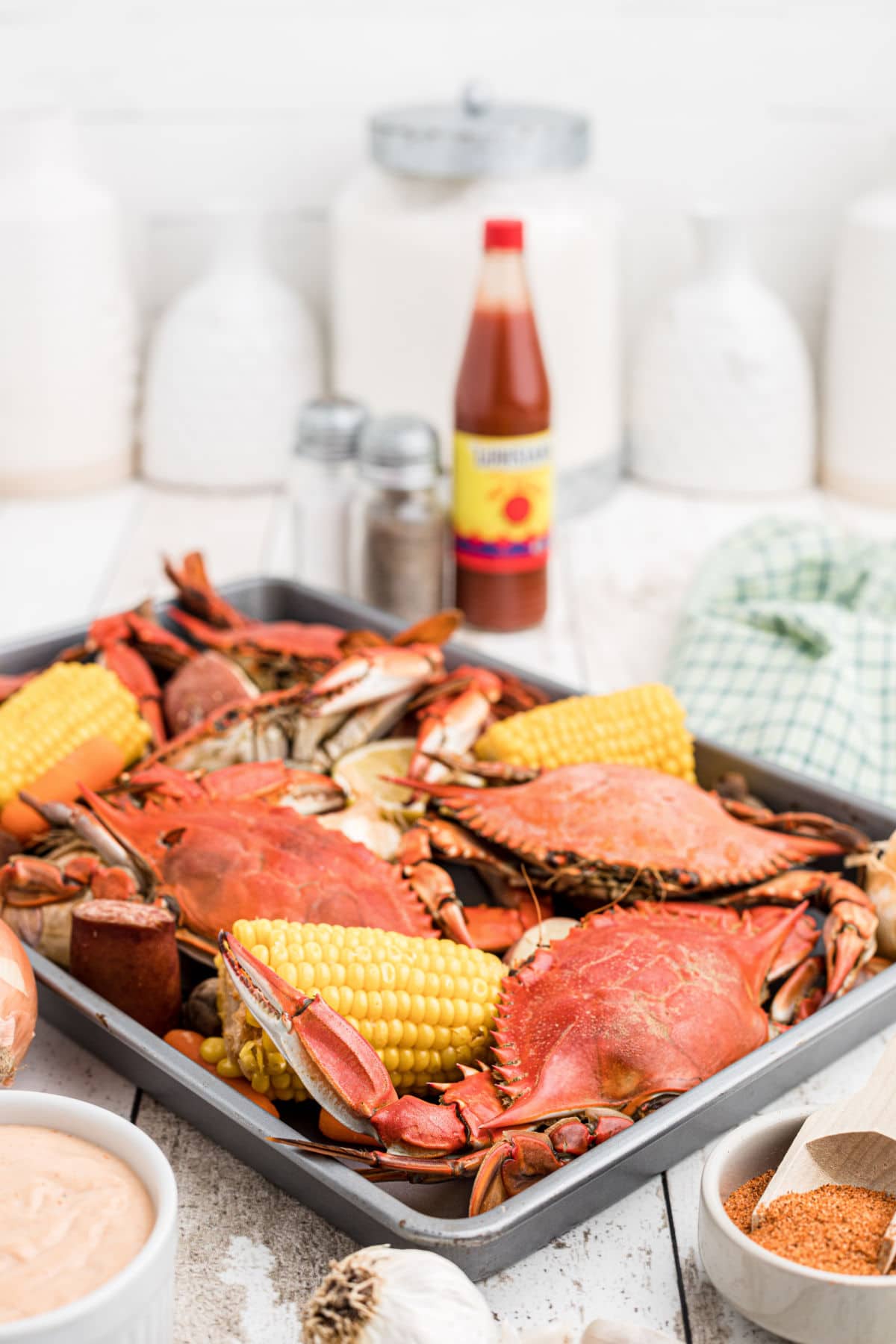 Jump to:
Catching crabs can be a seasonal thing. They're going to be a lot bigger and fatter at certain times of the year.
Around Easter is the perfect time here in South Louisiana. It's perfect timing, as it coincides with lent. In 99% of backyards in Louisiana, on a Friday, somebody is boiling seafood. Whether it be crawfish, shrimp or these delicious Cajun crabs.
It's always a fun atmosphere.
These recipes can be fairly similar. There is some varieties in the vegetables though. You'll hear some funny stories about people adding some strange stuff to their seafood boil. From broccoli and cauliflower to hot dogs and eggs.
Boiled crabs is many southerners favorite food.
🧅 Ingredients
Carrots
Potatoes
Garlic
Yellow Onions
Ears of Corn
Mushrooms
Oranges
Lemons
Smoked Sausage
Live Crawfish (30-40 pounds of crawfish is in one sack)
Crab Boil Louisiana (Louisiana Crawfish Seasoning)
Cajun Seasoning (optional)
See recipe card for quantities.
These are the blue crabs we catch in the waters around where we live in Houma, Louisiana. They can get really big and the kids just love catching them.
Surprisingly, there's a really easy way to catch them using chicken necks, string and a net. Sometimes you can pull up that chicken neck and you can scoop 4-6 crabs all at the same time trying to eat on that chicken.
Good times in a great place.
🥣 Instructions
Step 1: Prepare the onions, garlic, potatoes, carrots and citrus by cutting in half or large chunks where needed and putting on a tray.
Step 2: On another tray prepare the ears of corn, sausage and mushrooms.
Step 3: To a large boiling pot full of water and seasoning (see the recipe below for seasoning quantities) add the first tray of veggies and boil for 10 minutes.
Step 4: Add the next tray of veggies and sausage and boil another 10 minutes.
Step 5: Wedge the basket to allow it to drain then place in an ice chest to keep warm.
Step 6: Add more seasoning and bring the water back to the boil. Add the crabs to the basket.
Step 7: Once the water is boiling again drop the wild crab in. Boil for 8-10 minutes and turn off the fire. Soak for another 20 minutes.
Step 8: Drain by wedging again with your paddle (or whatever tool you're using to stir). Add to an ice chest to keep warm and serve on trays with the veggies, sausage and some seafood sauce - I have a great recipe for Seafood Sauce here.
Hint: Adding the citrus is not only for flavor it also helps with peeling. Don't choose to leave these lemons and oranges out.
Substitutions and Variations
Boiled Shrimp - if you prefer to boil shrimp instead you can use roughly the same ingredients. Don't add the seasoning though during the boil. Just boil the shrimp for 2 minutes then turn off the heat. Add the seasoning at this point (and just half of that in this recipe, shrimp have a much thinner shell and absorb easier). Allow to soak for 5-10 minutes and remove. You'll see a little bubble appear on the back of the shrimp when it fills with the seasoning. That's a little indicator that the shrimp boil is ready.
Vegetables- any vegetables can be added depending on your preferences. Some popular ones are cauliflower, broccoli, brussel sprouts, green beans...
Eggs - Add some eggs and make boiled eggs in this delicious seasoned water. You'd be amazed at how good those eggs are.
Tamales - Poke a few holes in a bag with tamales and toss them in there at the end.
Turkey Necks - A turkey neck infused with the flavors of the crawfish boil is absolutely delicious!
Hot dogs - yep, I said it. Hot dogs apparently thrown in there for a minute turn into delicious food.
❤ Sharing is Caring - Like Our Facebook Page ❤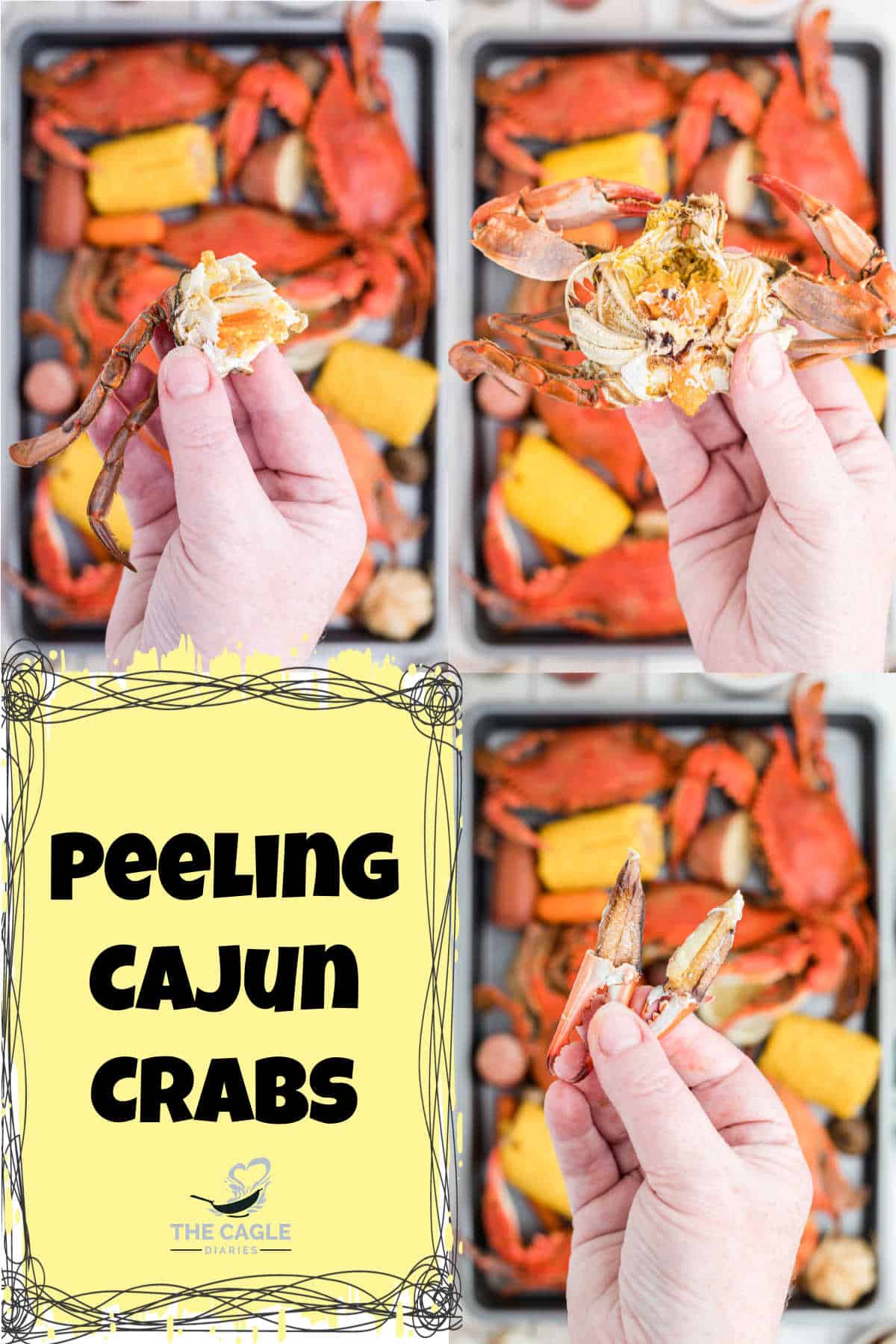 For more tantalizing of your taste buds see my recipe for fried crab claws - also on this website! You could also try my Cajun Butter Sauce which is great for dipping crab meat into.
🔌 Equipment
You'll need a big boiling pot that has a basket, a paddle of some kind and an ice chest - oh, and don't forget the propane!
See my recommended items below in the recipe card.
Storage
The good things about putting the Cajun crabs in an ice chest is not only for them to stay warm, but when you're done all you need do is throw some ice on them to keep for the next day.
Some people get to peeling the leftovers to keep the meat right away - we're normally tired of peeling by this point and put it off for the next day.
Once the crabs have been peeled you can add the meat to a resealable bag and freeze for up to 3 months.
💡 Top tip
When you're peeling the leftovers (if you have any) keep the top shell. These are perfect for making stuffed crabs - see my recipe for stuffed crabs here.
---
If you've tried these CAJUN CRABS or any other great recipe on my site, let me know in the comment section below, how it turned out, we love hearing from our readers! You can also follow me on PINTEREST, FACEBOOK and INSTAGRAM to see more amazing recipes!
Cajun Crabs
Total Time:
1 hour
10 minutes
Cajun Crabs are seriously the best kind of boiled crabs you can eat. The seasoning is on point and the vegetables and smoked sausage are perfection.
Ingredients
3lb Red Potatoes
3lb Onions
6 Bulbs Garlic
3lb Carrots
3lb Whole Corn
16oz Whole Mushrooms
3lb Smoked Sausage
4.5lb (Zatarains) Crab Boil Seasoning
8 oz bottle (Zatarains) Lemon shrimp & crab boil
8 oz bottle (Zatarains) Garlic & onion shrimp & crab boil
2 Whole Oranges, halved
2 Whole Lemons, halved
1 Bushel of Blue Crabs
Instructions
Prepare your vegetables by cutting into halves or sections. On one tray add the potatoes, onions, carrots, garlic, onions and lemons.
On a second tray add the corn, sausage and mushrooms.
Add the first tray to a boiling pot of water, seasoned with 2 cups of the crab boil seasoning and boil for 10 minutes.
Add the second tray of vegetables to the pot and continue cooking for another 10 minutes.
Lift the basket out of the boiling pot and wedge it above the water using a paddle (or whatever you use to stir your boiling pot). Allow to drain for a few minutes then add to an ice chest to keep warm.
Add all the crabs to the basket. Add the remaining crab boil (liquid and dry) to the water and bring back to a rolling boil.
Drop the crabs into the boiling water and continue a rolling boil for 8-10 mintues.
Turn off the fire and allow to soak in the water for 20 more minutes. Drain, and add crabs to the ice chest to keep warm.
Dish up on tray with the veggies and a seafood dipping sauce.
Notes
For a little more than Cajun crab try adding some Cajun Fries as a side dish or maybe an appetizer.
Sprinkle some seasoning over the crabs before you even start peeling. Some folks like the additional pop of flavor while sucking fingers and eating the crab meat etc. I have a great recipe for homemade cajun seasoning here.
Recommended Products
As an Amazon Associate and member of other affiliate programs, I earn from qualifying purchases.
Nutrition Information
Yield

8
Serving Size

1
Amount Per Serving
Calories

1101
Total Fat

53g
Saturated Fat

17g
Trans Fat

0g
Unsaturated Fat

28g
Cholesterol

208mg
Sodium

2032mg
Carbohydrates

115g
Fiber

18g
Sugar

32g
Protein

51g