I had no idea that cooking biscuits in air fryer would be so delicious! The best thing about cooking them this way, is the texture is perfect! Crispy on the outside, fluffy and soft on the inside. Added bonus - you don't have to heat up the house with your oven! Air fryer biscuits will be your new favorite breakfast item.
MORE AIR FRYER RECIPES:
Air Fryer Corn Dogs | Air Fryer Crab Cakes | Air Fryer Pizza Rolls
Ingredients
It doesn't get any easier than this! Grab a few frozen biscuits out of your freezer and you are good to go!
---
You will need:
Frozen Buttermilk Biscuits
Cooking Spray
Substitutions and Additions
You can use any brand of frozen biscuits - I like the buttermilk type, but if you prefer the layers or so on go ahead and use those.
If you want to make refrigerated canned biscuits that works too! You may not need as much time to cook, just keep an eye on them. The temperature can stay the same though.
How To Make Biscuits in Air Fryer
Step One: Preheat air fryer to 320°F. Take out frozen biscuits.
Step Two: Arrange biscuits in the basket (lightly sprayed with oil)
Step Three: After about 7-8 minutes check the biscuits and flip them over.
Step Four: Remove from the air fryer and enjoy while still warm.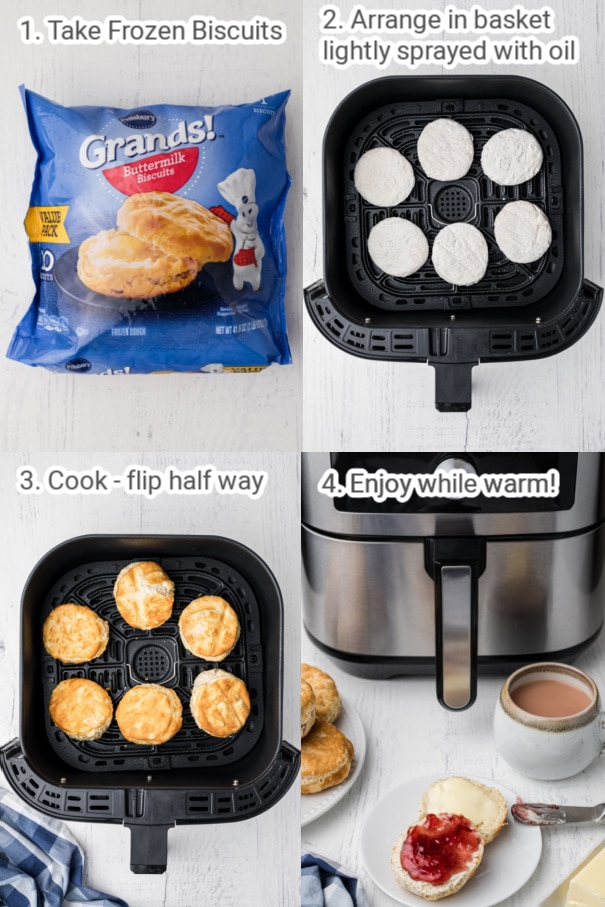 ---
How To Serve
Those of you who know me, know I'm not from the States originally. I'm a British girl, and to me a biscuit is something completely different. However, I've been here long enough to know that these biscuits are to die for. How you serve them is a personal preference. I like mine plain, dripping with butter. My kids though like to add jellies and preserves. You can even make them savory - a little bit of perfection comes when you add a little fried chicken. Biscuits are so versatile!
Storage
Once the biscuits have cooled, if you have some left (which we never do) you can store them in an airtight container with a little paper towel to help with moisture. They can be stored at room temperature and will be good for about 3 days.
When reheating these biscuits pop them back in the air fryer again at 350°F for just a few minutes, they will be hot and fresh just like they were originally! This is my favorite function of the air fryer - it's perfect for reheating food.
---
Air Fryer Biscuits
Delicious every time - frozen biscuits in the air fryer are easy and quick. Nice and crispy/toasty on the outside, soft and fluffy on the inside. Air fryer biscuits are the best.
Ingredients
Frozen Buttermilk Biscuits
Cooking oil spray
Instructions
Preheat air fryer to 320°F and lightly spray the basket with oil.
Arrange the frozen biscuits, to allow air to circulate all around the biscuits.
Cook for 7-8 minutes then flip the biscuits.
Cook the remaining 7 minutes.
Remove and eat while still warm with butter, jelly or your favorite spread.
Notes
Single layer air fryers work best for cooking biscuits.
If you are using a double layer air fryer oven you will need to flip the biscuits AND rotate the shelves for even cooking.
Recommended Products
As an Amazon Associate and member of other affiliate programs, I earn from qualifying purchases.
Nutrition Information
Yield

6
Serving Size

1
Amount Per Serving
Calories

180
Total Fat

8g
Saturated Fat

3.5g
Trans Fat

0g
Cholesterol

0mg
Sodium

550mg
Carbohydrates

24g
Fiber

1g
Sugar

2g
Protein

3g
FAQ
Why do I turn the biscuits half way?
This is so that the biscuits cook evenly through.
Can I cook two racks at once?
If you have a rack type air fryer they will not cook the same. In order to adjust, at the point in time when you'll flip the biscuits also rotate the racks in the air fryer. This should even it out. You may also need more time based on your type of air fryer.
How long do you put biscuits in the air fryer?
15 minutes at 320°F, flipped about half way. This works well for my air fryer. Of course all air fryers are different so yours may need more or less time, just keep an eye the first time and make a note.
Can you air fry frozen biscuits?
Most definitely, yes! Air fryer biscuits are the only way I cook them now. Check my instructions above.